Googie Burger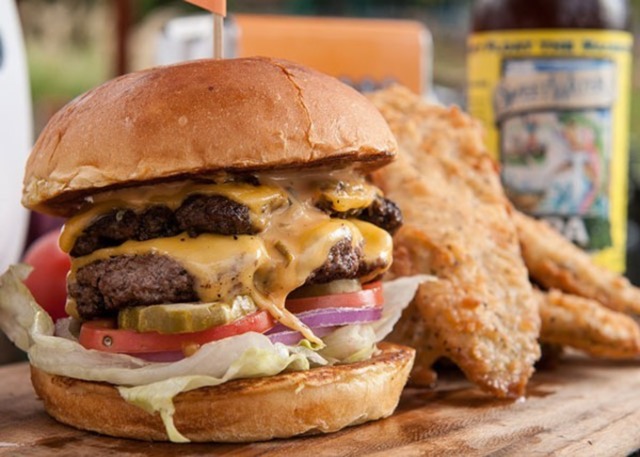 So what makes Googie Burger in Centennial Olympic Park good? To start with, just about everything is made fresh; there isn't even a freezer in the place. You can see buttermilk being poured over pickles that will later be coated, fried to order, and turned into thick, long ovals of tangy crunch. Googie also uses local vendors and local flavor on occasion — Georgia peaches show up in shakes in the summer, Vidalia onions appear in specials, Coca-Cola gets put to use in special marinades and sauces. Head chef Frank Abbinanti says, "We have plenty of tourist and convention traffic, and we want to give them something unique to Georgia."
Sunday April 7, 2013 08:00 PM EDT
Eat like a champion during the Final Four Tournament at Googie Burger with new, exciting menu items! Don't miss out on a round of sliders made especially for The Big Dance. The delicious sliders that will be offered include Ground Beef, Short Rib and Brisket Sliders with Cheesy Googie Sauce and Ci...
Cost:
Saturday January 12, 2013 07:00 PM EST
Falcons and Googie fans alike are invited to chow down on the "Falcon Burger" just in time for the playoffs. This quarter pound beef patty topped with American cheese, lettuce, tomato, red onion, pickles, and blue cheese Sriracha slaw on a fresh potato bun, is served with fries and a regular sof...
Cost:
265 Park Ave. W. N.W.
Atlanta
,
GA
30313
(404) 223-4664
googieburger.com
Fast Food Restaurant
Hours Closed Temporarily